Red Fish Grill: Best Seafood Restaurant on Bourbon Street
I am not being compensated for writing this post. This is based on my own experience and opinion. 


One of my absolute favorite restaurants in the French Quarter is Ralph Brennan's Red Fish Grill. It is near the Canal Street end of Bourbon Street. Casual seafood dining at its finest. Hubby and I go there often when in the Quarter, take visiting friends and family, and recommend it whenever asked where to eat.
Red Fish Grill is known for several signature dishes.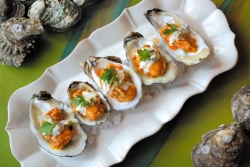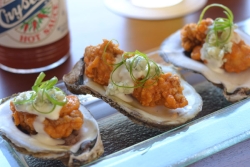 BBQ Oysters…You can order these as part of their sampler appetizer dish, by the dozen, or on a Po-Boy (winner of Best Seafood Po-Boy at Po-Boy Festival). They are buffalo style oysters made with Louisiana's own Crystal Hot Sauce and topped with a specially made blue cheese dressing. Delish! I like to get a 1/2 dozen of them and then a 1/2 dozen raw oysters on the half shell.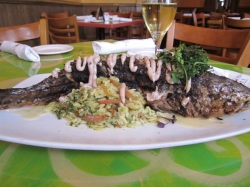 Hickory Grilled Redfish…topped with sauteed  LA jumbo lump crabmeat and lemon butter sauce. Served with wild mushrooms and Pontalba potatoes. One of my faves!

Double Chocolate Bread Pudding…I hardly ever order dessert when eating out. And I am not a big fan of bread pudding, but THIS is in a league all its own. Not your traditional bread pudding. So phenomenal it must be ordered 20 minutes in advance. It's like a dark and semisweet chocolate brownie topped with chocolate almond bark. After it arrives at your table, the server pours white and dark chocolate ganache on top of it. Heavenly.
Red Fish Grill is a nice laid back environment. When Hubby and I just want raw oysters on the half shell, we sit in the oyster bar area. There are some cool, large oyster and pearl mirrors over the bar. You can also watch as your oysters are shucked and placed on your platter. Add horseradish, lemon juice, cocktail sauce, hot sauce and I'm good!
There are additional dining rooms as well and a wine room for private parties. During big New Orleans events, it is not uncommon to see a celebrity or two. Hubby and I dined near Malik Yoba, Kid 'N Play, and a few others once.
For more information on this fabulous restaurant and their recipes, visit RedFishGrill.com.
Have you ever been to Red Fish Grill?
Doesn't the food look and sound awesome?
Are you a seafood lover? If so, what's your favorite?